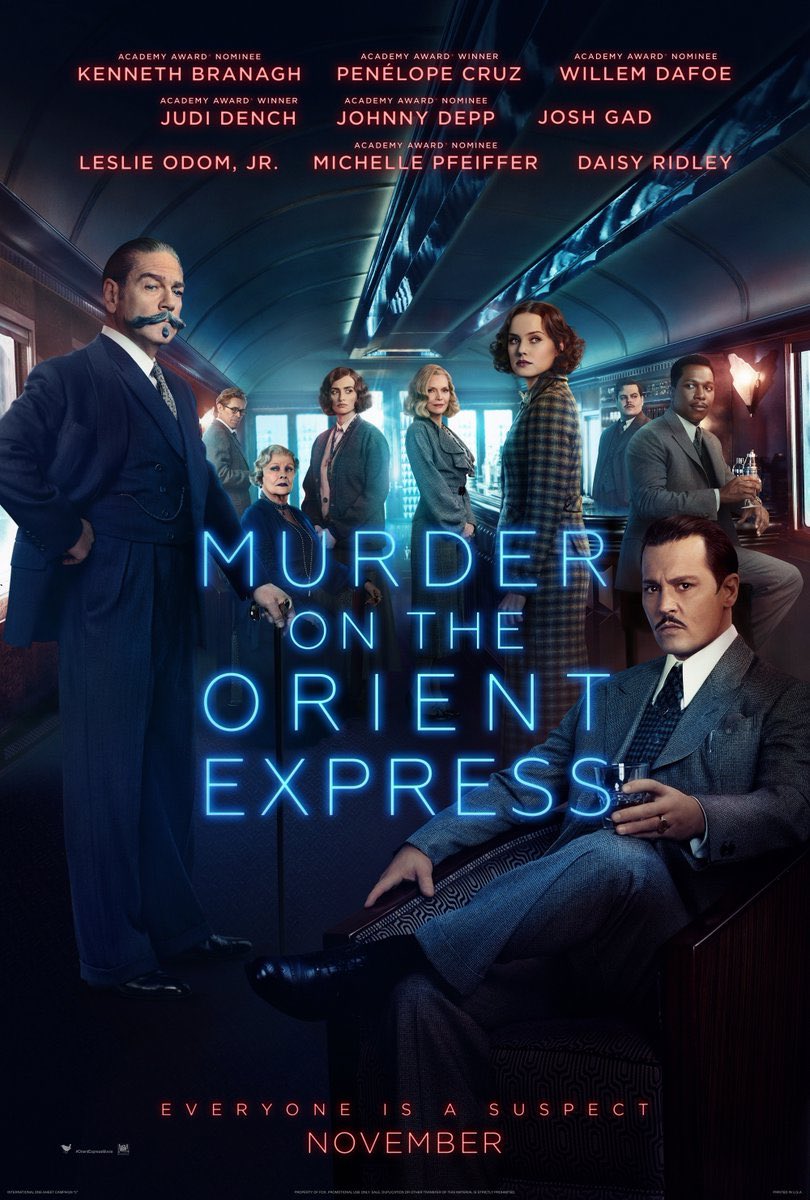 For those of you who are like me, there's a reason I made this review spoiler-free. In that, having never read the Agatha Christie novel nor seen the 1974 movie adaptation, I went into this 2017 adaptation completely blind. Yes, I've never read or seen anything related to Christie's works (though I easily could've seen "Murder She Wrote" or like-minded shows if my teenage self had been interested). So, I went in with moderately low expectations and had a good time as a result. But before I get into why, let's delve into the story first.
Hercule Poirot, a famous Belgian detective, finishes solving a theft in Jerusalem when he meets up with his friend Bouc, the director of the train called the Orient Express. When Poirot is called to London for another case, he boards the Express and comes across an eclectic bunch of passengers. After an avalanche derails the train and halts its progress, shady businessman Samuel Ratchett is found dead in his room. It's then up to Poirot to catch the culprit among the passengers and determine the reason for Ratchett's murder.
I'll be honest, when I first saw the trailers for this movie, I was immediately interested in it. I knew the story was a classic murder mystery and I've enjoyed Branagh's work before. And, like I said, I enjoyed this movie. The first thing that drew me into it was the insanely great casting. Branagh has a knack for getting amazing actors/actresses for his films and this was no exception. Even better, I felt that while some characters got more focus than others, not one performance fell flat for me. Each person did their part to make this story feel believable. My personal standouts had to be Michelle Pfeiffer, Josh Gad, and, of course, Branagh himself. Poirot is easily the most likable character of the bunch and it was a joy to follow him throughout the movie. Once again, though, the entire cast did a phenomenal job.
Another thing I liked was the design of the whole movie. I knew from the trailers and Branagh's other work that this movie would look gorgeous and I wasn't disappointed. The shots of the train and even a few long tracking shots going through it were great, and the few locations shown were also very pretty. There were a few camera shots that were kinda odd, such as an occasional overhead view of the characters in the train, but they never took me out of the movie. I really enjoyed the moments of levity the script allowed too, as there were some chuckle-worthy lines (mostly from Poirot) that kept things from feeling too depressing. They mostly occur before the actual murder happens, so the serious tone thankfully isn't jeopardized when it's needed.
The complaints I have with the movie mainly have to do with the script. Obviously, it's trying to be as faithful to the Christie story as possible (according to my husband). That's still a good thing, but it also means that a lot of exposition is given during the crucial reveal. This only bothered me because we were told things about some characters that easily could've been hinted at earlier in the movie. It made it feel like these clues couldn't be incorporated because of time. The other major complaint I had was that the pacing leading up to Poirot boarding the Express was a bit slow. I appreciated that those scenes before gave us a good profile of him as a detective, but the movie just had an overall slow start for me.
With all that said, I think "Murder on the Orient Express" is a good adaptation of the Agatha Christie mystery as well as a good movie in general. The cast is solid, the locations are beautiful, and the story is filled with enough tension and guesswork to keep you invested. If you've already read the book or seen the 1974 movie, seeing this will depend on if you want a flashier adaptation of the story despite knowing how it'll end. I know it's at least got me interested in reading the book, so take that for what it's worth.